Frudia got its name by combining the words "fruit" and "dia", the latter being a Greek word that translates to "by" or "of". The brand harnesses the true power of fruit after discovering that true beauty can come from the naturally occurring antioxidants found in fruit.
After 30 years of dedicated research, Frudia has found a way to combine the power of fruit with the efficiency of modern science to create skin care products that revitalize and re-energize skin.
Once we thought - how can we offer our skin with all the beneficial properties of the fruits. We were searching and selecting fruits all over the world.
Once in France (in the city of Alsace), we wandered into a workshop where the fruit jam without additives was cooking. And we noticed that the hands of the chefs who were cuting the fruits were very smooth, the skin was exceptionally hydrated and soft. 
An idea came to our mind - what if we replace the water in cosmetic products with natural juice of healthy fruits.
Realizing the potential power of unprocessed fruits, we set out to develop a technology to preserve the nutritional properties of fruits. This is how the R Vita W technology was developed, which makes it possible to carefully process fruit raw materials, including seeds, pulp and even fruit zest.
About FRUDIA's R VITA W™

 

Technology
What's FRUDIA's secret for successfully delivering the benefits of fruit to the skin? All of the brand's products are formulated using R VITA W™, a low-temperature process to extract seeds, juices and peels from fruit. The process helps minimize the loss of nutritional value, as the fruit is slowly compressed at low temperatures. The juice is slowly extracted from the fruit, resulting in a 100% fruit base for FRUDIA's skin care products instead of a purified water base.
FRUDIA offers four different skin care lines that target specific skin concerns, including hydration, brightening, pore control and nutri-moisturizing. Depending on what you're looking for, FRUDIA has something to meet all your skin care needs.
Frudia Blueberry Hydrating Line 
This line is perfect for dry or dehydrated skin, but it's also great if your skin just needs a boost of hydration.
Blueberries are packed with antioxidants, and with all products from this line containing blueberry extract, you can expect your skin to be deeply hydrated. You can create an entire skin care routine using products from the Hydrating line, which includes a cleansing balm, facial cleanser, toner, serum, face mask, and moisturizers.
FRUDIA's Blueberry Hydrating Intensive Cream, one of the brand's bestsellers, keeps your skin moisturized for up to 72 hours. If you have a damaged skin barrier or you're dealing with dry, flaky skin, then this is a cream that's worth trying.
Another best-selling item from this line is FRUDIA's Blueberry Hydrating Honey Lip Balm. Packed with honey and blueberry extracts, this lip balm can be counted on to keep your lips nourished. It also instantly plumps your lips.
Frudia Green Grape Pore Control Line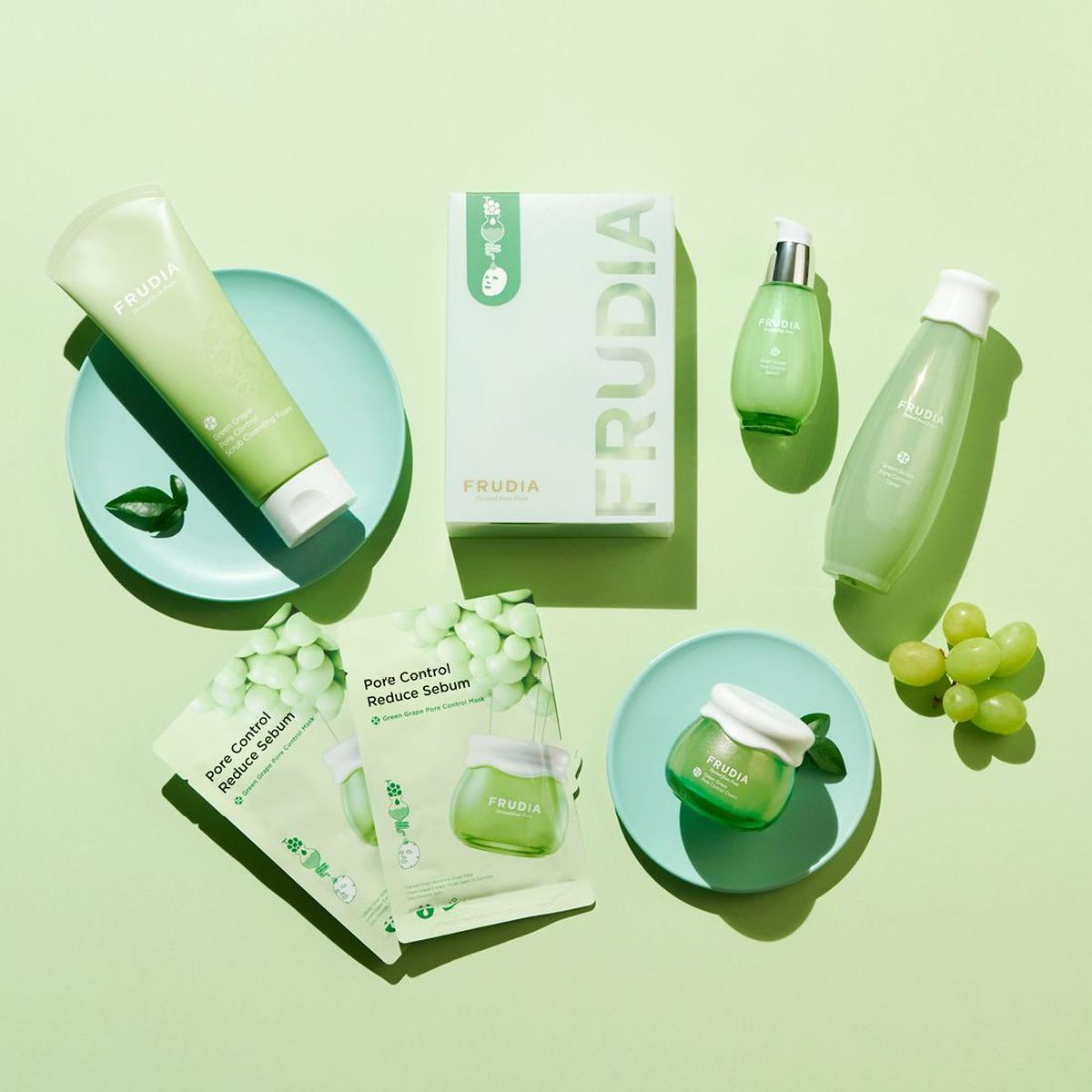 To help improve the appearance of large pores, FRUDIA's Pore Control line (the green grape as the main ingredient) is a great option. Treat your skin to a weekly sheet mask session with the Green Grape Pore Control Mask. Each sheet mask is infused with green grape juice, which helps purify pores and controls excess sebum. 
For an everyday treatment, incorporate the Green Grape Pore Control Serum into your routine, as it contains a more concentrated amount of green grape juice that will help tighten enlarged pores. This serum also reduces excess sebum, particularly around the T-zone areas. 
Frudia 
Citrus 
Brightening Line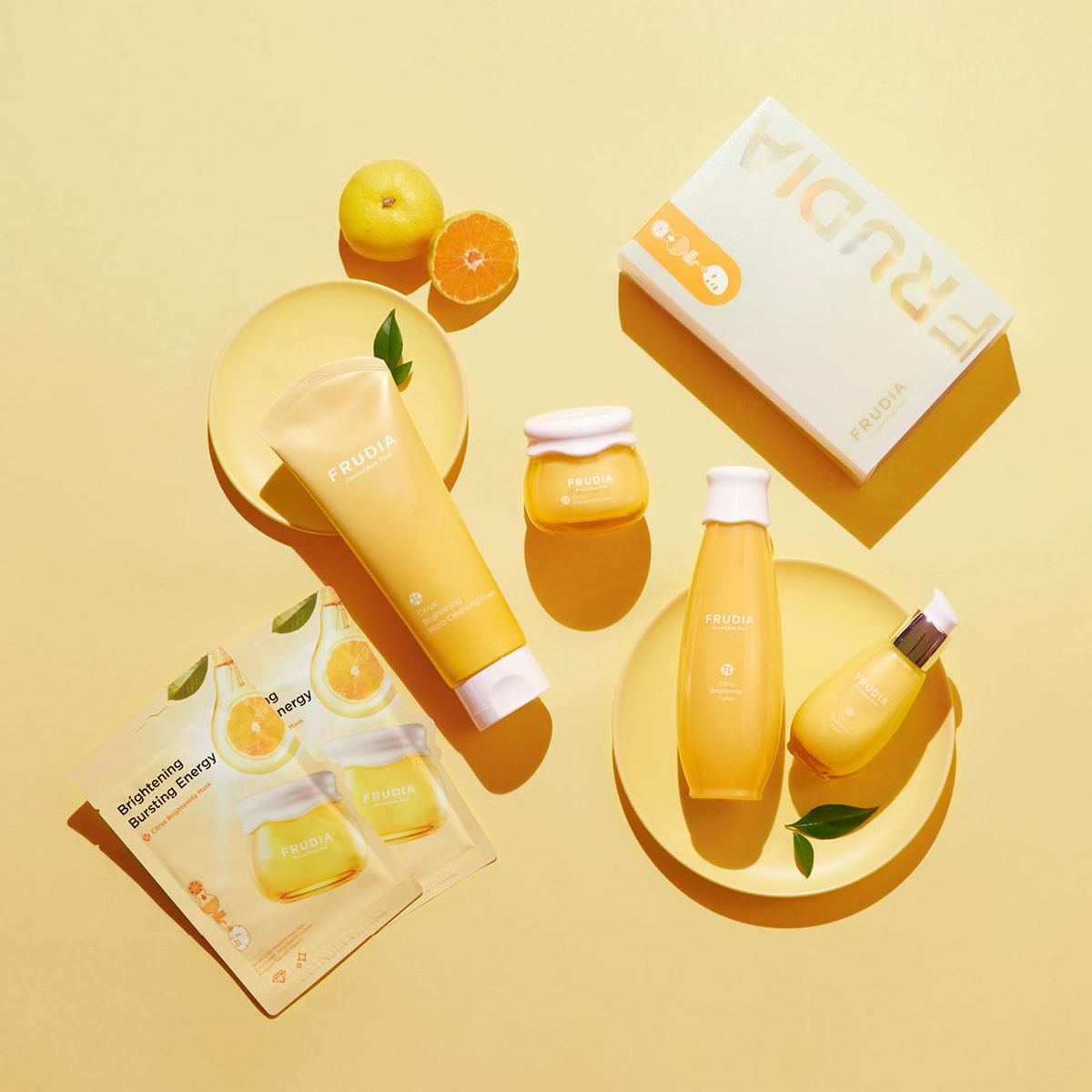 Does your skin needs luminosity? FRUDIA's Brightening line can help change that! This line is also perfect for those who are dealing with dark spots or pigmentation. To help fade spots, such as post-acne dark spots, try using 
FRUDIA's Citrus Brightening Toner
 daily. This toner is rich in vitamin C and doesn't just brighten dark spots. It also helps even out your overall skin tone as well as give you a glowing complexion. 
Frudia Pomegranate 

Nutri-moisturizing Line
If you want to look young a little longer, then you can't go wrong with the Nutri-moisturizing line, especially in winter. All the products are formulated with pomegranate extract, and each helps nourish the skin and keep it firm. Pomegranate is also high in antioxidants and protects your skin against damaging free radicals. 
The Pomegranate Nutri-Moisturizing Sticky Cleansing Foam features a mochi-like texture, and gets rid of all impurities and traces of makeup, leaving your skin nourished and supple. Post-cleansing, follow with the Pomegranate Nutri-Moisturizing Toner and Serum improve your skin's elasticity.
---